No doubt, the minute you decide to move to Los Angeles and begin your acting career, you will encounter many naysayers and people second-guessing your move.  The good news is that there is a network of aspiring actors out here and ironically, these other actors are not necessarily your competition. In many ways, other actors have used crowdsourcing in order to help themselves to support their own acting career, and you can too.
There's an emotional hurdle, but also a fundamental to-do list hurdle, serving many practical purposes.  How to find an agent? What seminars and classes to take? Where to go to find the best available scripts?  Where can I find a tailored monologue? Let us compile a list so that you can quickly build your acting career.
Backstage Casting Not only does this site have a huge up-to-date selection of great gigs, one of the best features of Backstage is the ability to filter by a whole range of metrics.  Instead of having to troll through hundreds of posts, simply select your working location, age, ethnicity, your pay scale, and any keywords which might apply and you're locked and loaded.  
Ace Your Audition Monologues  Actors are often required to have a repertoire of monologues.  This website culls monologue pieces. Individual auditions might call for something specific.  Welcome to over 1,000 free monologues. The monologues are broken down by category. So, if you're a female 25-50 or a young adult male 15-20 looking for something in particular, you are only a few clicks away. 
YouTube Did you know that YouTube is the third most popular search engine on the planet? YouTube is not 'just' a video streaming service, it is the go-to place for self-promotion.
If you're trying to get your name and face out there, you're doing yourself a favor by getting plugged into YouTube. Be marketing savvy and recognize this opportunity.  Build an audience early on in your career.
Actors Website Templates Today's demo reel.  If you don't have a website, you are selling yourself short, decreasing your chances of somebody finding you. It's also a lot easier to click over a URL to an agent or potential director rather than posting a  resume into the casting vortex.
CGTV is a high-level TV, film, and entertainment program designed to help connect talent to the industry. Talent is guided by top celebrities from ABC, NBC, CBS, Disney Channel and Nickelodeon. In addition to our ongoing workshops and classes, our program offers cold reading and audition, audition techniques, audition with sides, and marketing yourself in acting.
Call us or email us! Phone: 818-284-6689 • Email: hollywood@cgtv.la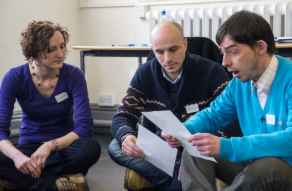 Sources:
https://www.nyfa.edu/student-resources/the-top-five-essential-and-free-resources-for-acting-students/
https://cgtv.la/celebrity-videos/
https://cgtv.la/wp-content/uploads/2018/05/4038307_M.jpg
581
825
R'Mante
https://cgtv.la/wp-content/uploads/2018/10/CGTV-Logo-300x106.png
R'Mante
2018-05-07 16:26:03
2018-05-07 16:26:03
Best Resources for Aspiring Actors