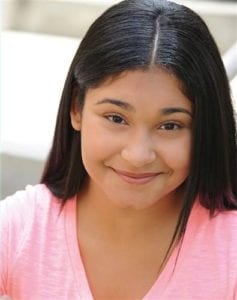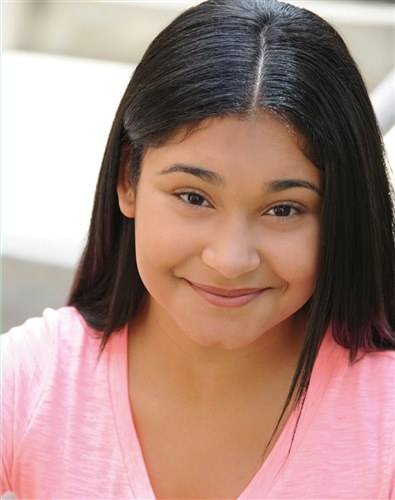 Adrian R'Mante and CGTV partners with many local talent agencies to provide auditions in a variety of cities, globally, year round.  The below review is from an actress that found us through one of these local agencies.  If you are a talent agency interested in bringing Adrian R'Mante and The CGTV Celebrity Experience to your talented youth, please, call our Director of Marketing, Gia Heller at 480-258-1392. The following is a blog story created from an interview with Kiara Carrion.
Kiara Carrion
My name is Kiara Carrion and I heard about CGTV from a local agency in my town.  I was nervous for my audition and worst of all, I did not prepare in advance.  I suppose the thing that made me MOST nervous about my audition was knowing that it would be in front of my Disney hero, Adrian R'Mante, aka Esteban from the Suite Life of Zack & Cody.  I have to admit, it was a little bit intimidating but, also very exciting!
When I walked into the room, I brought my fear with me.  But Adrian was very quick to put an immediate end to that!  He was SO nice, so friendly and let me know that there was no need to be nervous.  He had me feeling comfortable immediately.  I was grateful, certainly not what I was expecting from a star I had watched for years on TV.
I thought I did pretty ok at the audition, but I was still unsure if I was good enough.  So, the wait to hear if I was going to get a callback was very stressful.  I got called back!   I was thrilled, I think my parents were shocked!  Haha!  The room was PACKED with other kids and I was shocked to see that I had made it into a small group that were invited to join the VIP experience in Hollywood.  Knowing the experience would end with me on stage in front of Hollywood managers and Hollywood agents was even more nerve wracking than the original audition!
We had heard SO many great things about the program and recognizable stars like RJ Cyler (Me, Earl and The Dying Girl, PowerRangers 2017, War Machines) and Bex Taylor Klaus (MTV's Scream and Arrow) were giving heartfelt testimonials that CGTV took them straight to the top of Hollywood!  Because of these reasons, we decided to invest in the training, it was an easy decision.
My favorite part about the training was being coached by the stars I grew up knowing on Disney, you see, in addition to Adrian, the team is FILLED with highly recognizable Disney Stars!  And of course, my MOST favorite part were the results of my live performance at the showcase.  Not one, but EIGHT Hollywood agents requested a meeting with me.  In fact, Adrian had even taught us the tools of WHAT to look for in an agent and HOW to act when we got to our callback appointment.  Of course, we also had our video reels and pro head-shots complete with resume to give to our new pursuers!  It was a turn-key staircase to Hollywood.  IF you had the talent and even more importantly the drive and commitment to see it through all the rejections.
Even if they had NOT picked me, this program was WORTH its weight in gold in terms of the training.  I now have the tools I need to continue in my career, which is taking off!  I highly recommend this program to anyone with Hollywood dreams.  It is the real deal, there is a ton of training, information, head-shots, exposure and qualified staff.  By qualified I mean they are already highly successful working actors.  Thank you to my parents for investing in me and thank you to Adrian and CGTV for delivering so much more than you promised.
Adrian R'Mante
https://cgtv.la/wp-content/uploads/2016/09/14333666_1415256995156518_143319649248465847_n-1.jpg
500
395
R'Mante
https://cgtv.la/wp-content/uploads/2018/10/CGTV-Logo-300x106.png
R'Mante
2016-09-21 18:51:33
2016-09-21 19:16:54
Is it your dream to work with Adrian R'Mante?