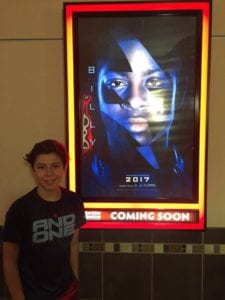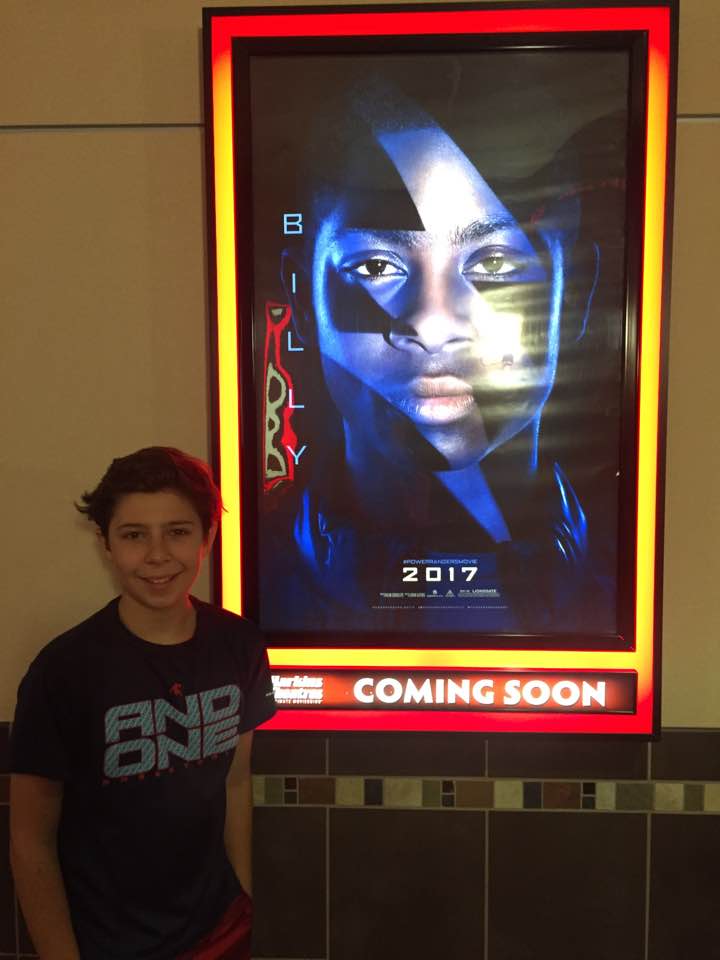 This photo features one of our recent graduates, Bailey Axen whom had 10+ Hollywood agents and managers ask him for a call-back.  He stands proudly in front of RJ Cyler, a CGTV Graduate, and Hollywood Star.  He hopes to follow in RJ's footsteps and even met RJ and was able to perform on the same stage with him at Hollywood's ACME theater, led by CGTV and The Celebrity Experience's Adrian R'Mante. CGTV Graduate RJ Cyler stars in POWER RANGERS 2017!
RJ's current IMDB profile reads as follows;
CGTV Graduate RJ Cyler stars in POWER RANGERS 2017!
"RJ Cyler, a native of Jacksonville, Florida, was born Ronald Cyler II, the youngest of three boys. RJ has always been an entertainer in some way or form. At the age of 12, he started a dance team with his older brother. In Jan,2012; RJ heard a commercial for open auditions in the Jacksonville area. RJ was asked to Los Angeles for another acting camp, which at that time RJ's mentor asked his parents to consider relocating to California in order to support a possible future. Feb 22,2013,the family took a leap of faith; he along with his mother, moved to Los Angeles. Shortly after, his father and one brother also relocated as well. With his family behind him, RJ continues to focus on becoming a better young man, comedian & actor, not easily deterred when life comes at him, he is truly the laugh box of his family and to those who met him."
The one thing it doesn't mention is that the acting "camp" was the CGTV Acting Program.  In particular, The Celebrity Experience.  Since we spotted RJ at a local city audition, he has been nominated for awards, taken the part of The Blue Ranger in the upcoming Power Rangers 2017 and scored a meaty role in a new movie with Brad Pitt.
RJ is not alone on our list of achievements.  CGTV Reviews are in and they are astonishing.  Check out actress Bex Taylor-Klaus on IMDB as well;
"Bex Taylor-Klaus was born and raised in Atlanta, GA, a fourth generation Atlantan. She has two passions that she has pursued throughout her life: sports and acting.
An all-around athlete, Bex played on her high school Varsity Softball team as a Freshman (Catcher & 3rd base). Bex's acting training started with Shakespeare in an after school program in the 3rd grade, and was a consistent part of her extracurricular life and summers. In high school, Bex performed in her school's Improv Troupe – she loves comedy and Improv – and with friends started a Junior-High Acting Troupe to train young actors. CGTV Graduate RJ Cyler stars in POWER RANGERS 2017!
At 18, Bex moved to LA in the summer of 2012 to begin her acting career while finishing High School. As a series regular in The Killing (2011), Bex's first official role as an actor is the part of Bullet. Bex writes about playing Bullet, "to be an actor is to want to visit the dark places that humans strive so hard to stay away from." She is having the time of her life, fulfilling her dreams, and doing the work she loves.
When not working, Bex loves to hang out with her siblings (both real and 'by choice')."
If you are considering the acting program at CGTV be prepared for the success that may follow if you put in the work.
CGTV Graduate RJ Cyler stars in POWER RANGERS 2017!
https://cgtv.la/wp-content/uploads/2016/10/14520555_1147163962018812_8483506786773108120_n.jpg
960
720
R'Mante
https://cgtv.la/wp-content/uploads/2018/10/CGTV-Logo-300x106.png
R'Mante
2016-10-20 16:02:31
2017-04-21 16:14:49
RJ stars in POWER RANGERS 2017!