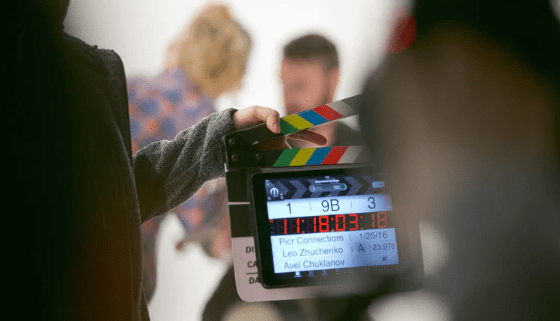 Basic Acting Terms & Phrases You Need to Know
Whether you're a walk-on or a rising star, knowing your acting terminology is crucial in the acting lifestyle. Important terms within the industry will only prove your that much more talented than the rest. Not knowing basic phrases used on set is like forgetting your line on the 5th take! Read below to learn about the important industry terms and phrases you could be missing out on. 
Acting Terms & Phrases: 
Above-the-line: Creatives that usually have higher fees due to their immense talent. This includes actors, directors, producers, and even writers.
Actors Equity Association (AEA/ Equity): A union that has jurisdiction over performers in live stage productions in theaters, such as Broadway and community theater.
Agent: Someone who represents talent and helps the talent get work throughout the entertainment industry. Agents, by law, have the right to both solicit employment and negotiate terms for the artists they represent. Not to be confused with the manager.
Callback: After the judges have narrowed down the selection, actors and actresses will get a Callback if they have made it on to the next round of auditions. 
Call Sheet: A daily schedule, providing actors with information about what time they need to be on set. 
Commercial Agent: an agent that represents talent for television commercials, not ads. 
Commercial Modeling: Otherwise known as Print Modeling, this is modeling done for print advertisements, catalogs, etc.
Day Player: An actor who is paid a flat daily rate and generally only has a few lines in the production. Characters that appear in only one scene are generally played by day players. This is sometimes a "step-up" for an extra who is asked to read a line on-set.
Dailies: Previous footage from the following days creates a film stock known as, 'dailies.' The producers and directors will get together and critically analyze all the details. Whether it's something about the set or wardrobe, this is a crucial moment in production and can only create improvements. 
Director: A director is one of the main creatives on set. The image they have in mind is what they are trying to portray to the actors. Director duties also include casting, script editing, shot selection, shot composition, and editing. 
Executive Producer: A producer not involved with technicalities and filmmaking process, but is still held responsible for some production. 
Extra: Usually an extra is apart of the background of a scene and doesn't have a specific character. Generally, they don't speak and are non-specific or apart of a crowd. 
Honey Wagon: A vehicle/trailer/truck containing dressing rooms and restrooms.
Line Producer: Practical aspects of production are handled by Line Producers. They are responsible for the technicalities of production like budgeting, scheduling, and other hands-on implications. 
Pilot: If you've ever noticed, your favorite TV series always start with a Pilot episode. This is the test-run of the show and the first episode to go on-air. 
Slug Line: The heading above a script that lets the reader know the location, time of day, and other important actions they might occur. 
Taft-Hartley: A federal statute that allows a non-performer to work in a union position without having to first join the union. It is in effect for 30 days from the first day of employment, after which the performer must join the union.
Treatment: Like an outline, treatment is one of the ways studios try to speed up the production process. Treatment adds depth to the characters and fills in missing ideas that haven't yet been established.  
Walk-On: A small acting part with no lines.
Set your rising star up for success and teach them the basic vocabulary of being an actor! CGTV will help your child effectively learn all of the aspects of acting, so they can start their careers. CGTV is a high-level TV, film, and entertainment program designed to help connect talent to the industry. Talent is guided by top celebrities from ABC, NBC, CBS, Disney Channel and Nickelodeon shows including CSI, 24, Modern Family, The Suite Life on Deck, Disney 365, Drake & Josh, The Suite Life of Zack and Cody, Austin & Alley and Good Luck Charlie. CGTV: We have people on TV! For more information visit our website at cgtv.la or follow us on Facebook to stay up to date on our latest news! 
References: 
https://www.backstage.com/magazine/article/phrases-every-actor-know-going-set-10066/ https://www.mariahfrench.com/acting-terms-definitions/ https://www.actingstudiochicago.com/terms-to-know/
https://cgtv.la/wp-content/uploads/2019/08/cgtv.png
373
560
R'Mante
https://cgtv.la/wp-content/uploads/2018/10/CGTV-Logo-300x106.png
R'Mante
2019-08-23 16:20:03
2019-08-23 16:20:03
Basic Acting Terms & Phrases You Need to Know