CGTV Graduate Is Sponsored to attend!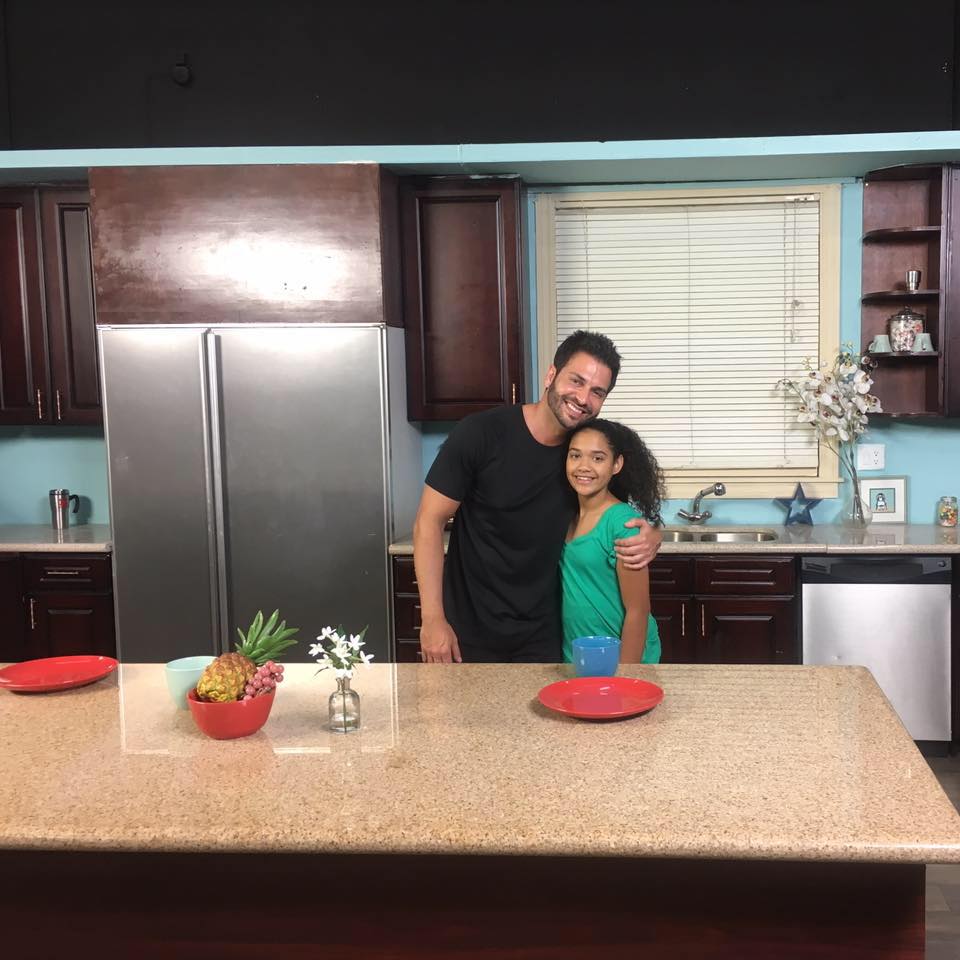 In our last blog, you learned about the success of one of our graduates, Zeah. CGTV Grad Is Sponsored to attend!
This is a follow up on her continued success and is surely a great article for anyone scouring the internet for CGTV reviews.
"This (CGTV/TCE/Hollywood)  is definitely a JOURNEY that can be accomplished when 'the family comes together to support the child actors pursuits" – Zeah's Mom 
When we returned from TCE, I took 3 days to read Lisa London's book, "From Start to Stardom" that we purchased at the event.  I took every step in her book and began taking action.  (She has founded many of Hollywood's finest and hottest celebrities) While waiting for our demo reel to be edited, I created a sponsorship letter to local businesses and organizations to seek out donors to sponsor Zeah's participation in the program – for simplicity, I will quote some info from the letter so you can see what our mission and purpose was:
"On January 12, 2016, Zeah received an exclusive invitation to attend the CGTV Pilot Program Training in Universal City, California.  This is an elite program offered only once a year, and Zeah is one of 30 children invited to participate in this accelerated, 4 week training program.
We have less than 2 weeks to raise $9,500 for program expenses and travel & housing accommodations, which will allow Zeah onsite private acting training with active, practicing celebrities, auditions for 2016 Pilot Season for Film & Television in Hollywood, California, exposure and opportunities with more industry professionals, and more.
We are considering creative ways to raise funds for this exclusive opportunity for our daughter. If you, or any organization or company you know, are willing to sponsor Zeah's next step in her personal & career development, she will in exchange, create a unique promotion or commercial for your organization and/or company.
Here is the general website of CGTV for your information and reference: https://cgtv.la
Mahalo for your consideration to help Zeah "Live Her Dreams"  to be on TV and to be an inspiration for keiki here in Hawaii, and around the world."
As a result, Zeah received some donations, as well as one offer of sponsorship – which created the opportunity for her to work on her first paid commercial project.  She was assigned to write, produce, and film a commercial for Dr. Aki Oshita, Gonstead Chiropractor and owner of Cornerstone Community Chiropractic.  Here's the final product that Dr. Aki used on his Facebook page to promote his practice, and Zeah's passion for acting.
While we did not meet the fundraising goal to return to LA for CGTV Pilot Program in February 2016 it did not shake Zeah.  Rather, it refocused her and her determination increased.  The program had PREPARED her for rejection.
Toward the end of February we received the TCE demo reels recorded at Universals Sound Studio so I was able to submit Zeah's complete package to our local talent agencies.  I submitted her package to 4 agencies, 2 of which were SAG-AFTRA franchised.  Both SAG-AFTRA franchise agencies replied to schedule a meeting with us to meet Zeah and to go over their expectations as an agency.  Following meeting with ADR Agency, they were interested in representing her.  After researching the 2 SAG-AFTRA franchised companies in Hawaii, and meeting personally with Talent Agent Ryan Brown, Zeah signed with ADR Agency. CGTV Grad Is Sponsored to attend!
That same week, prior to signing with ADR, we self submitted to Hawaii Actors Network (HAN) for the lead role in "Yes Mama".  This was Zeah's first audition in our local market place and she used the skills she learned from TCE and Adrian's CGTV training videos to prepare for this audition.  Additionally, I recorded one of Zeah's rehearsals and sent it to Adrian for his feedback.  He offered some suggestions for improvement, Zeah made the adjustments, and she did an amazing job at her audition.  The first audition resulted in a callback and a second audition which eventually lead to Zeah being offered the lead role of "Millie" in the Hawaii Student Short Film Project, "Yes Mama".  The Director envisions this film in 2017 film festivals – we are really excited for that and pray that things line up. CGTV Grad Is Sponsored to attend!
Prior to filming, we had 2 weeks of rehearsals which was a very interesting and a great learning experience for our entire family.  Filming took 4 days and it was an amazing experience for Zeah.  As parents, we literally watched our daughter mature over the two weeks of filming.  Her commitment to the project was amazing (for lack of a better term).  This was a student film so there was only one camera, one sound person, and they filmed on location – which resulted in many many many retakes because of sound quality and/or noise from the environment (ambulances, planes, dogs barking, neighbors talking….hahahaha…you catch my drift). On the final day, as we left location – and the last day was a very long day, I asked Zeah how she felt.  To my surprise, she responded with "I LOVE ACTING!!!  WHEN CAN I DO ANOTHER MOVIE???"  I expected her to tell me it was too much work, or it was too hard, or something to that effect – but her response demonstrated that acting is truly her passion and that the amount of work that is required to complete a project will not stop her from reaching beyond the stars. CGTV Grad Is Sponsored to attend!
In April 2016, Zeah was formally invited by BNI KOA Chapter in Ewa Beach, Hawaii to be their 'youngest entrepreneur'.  Zeah attended their new member orientation and instantly connected with many businessmen and businesswomen there.  She shared a 20 second overview of who she is and her goals and aspirations in life.  The members were very supportive and impressed by her poise and ability to know what she wants and to go after it at such a young age.  Zeah intends on joining the BNI KOA Chapter as soon as she can create opportunities to pay for her annual membership.
In June 2016, Dr. Aki at Cornerstone Community Chiropractic offered Zeah another paid project opportunity – to create an educational video teaching about Gonstead Chiropractic Care and the correlation of proper adjustments, appropriate home care, and overall health.  Rather than it being an advertisement for his practice, he wants Zeah to create this video to teach about Gonstead Chiropractic Care as a whole to share with his colleagues and the Gonstead Community.  Zeah accepted this opportunity and we are hoping to complete this project by the end of the year.  She has to do extensive research before she can write and produce this project.
Following Zeah's participation with CGTV summer program 2016, we made a family decision to follow up with callbacks and book appointments with the Agents and Managers who showed interest in representing Zeah.  We knew that a lot of sacrifice and much transition was necessary in order to take the next BIG step in Zeah's pursuits so we hosted a "Zeah's Journey To The Big Screen" fundraiser in August 2016.  This fundraiser was a great success and gave us an edge to commit to returning to LA for 3-4 months.  On September 1, 2016 we brought Zeah to LA and are currently learning, experiencing, auditioning, building networks, attending classes, making friends, acclimating to the "home away from home" that we are creating for Zeah.  It's definitely a JOURNEY and we are so grateful to have the opportunities, network, and support we have gained through our participation with TCE and CGTV!!!  Our family has grown so much over the past year because of our TCE ohana & CGTV ohana!!! CGTV Grad Is Sponsored to attend!
Zeah is truly a blessing and has aspirations to become a celebrity so that she may inspire kids in her community, our beautiful state of Hawaii, and beyond.  Her motto is "Be Grateful Everyday, Love God, Be Kind To Others"  –  she truly wants that message to circle the world. CGTV Grad Is Sponsored to attend!
CGTV Grad Is Sponsored to attend!
https://cgtv.la/wp-content/uploads/2016/10/13669244_1765352930352195_4568437429705076284_n.jpg
960
960
R'Mante
https://cgtv.la/wp-content/uploads/2018/10/CGTV-Logo-300x106.png
R'Mante
2016-10-07 09:00:58
2017-04-21 16:15:27
CGTV Graduate Is Sponsored to attend!