RJ Cyler, Forbes Magazine 30 under 30 list!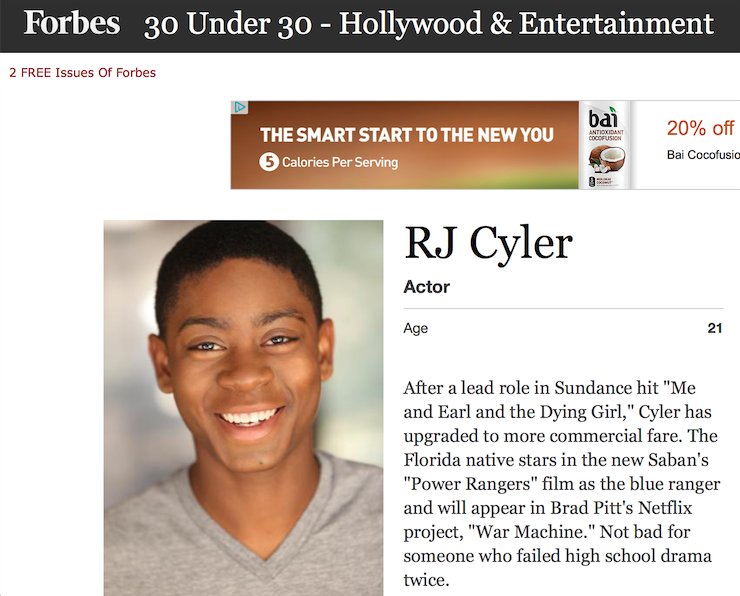 CGTV reviews are on FIRE!  RJ Cyler one of the shiniest stars in our bunch is making global headlines as one of Forbes Magazine's hottest young talents under 30 on their 30 under 30 list.  You can read the full article here:  http://www.forbes.com/profile/rj-cyler/
We are coming to many major US cities and International Cities across the globe in 2017.   if we are not coming to yours, you may want to consider traveling to a city nearby.  We will post which cities on our blog as they are announced.  Our grads are on Fire, check out RJ Cyler the newest winner of the Forbes, 30 under 30 distinction.  Other winners of this illustrious awards are people like Mark Zuckerberg, so RJ is in great company.
We found, trained and put RJ in front of all of our hollywood agents, managers and connections.  That training and those contacts got him exactly where he is today. He is now a critically acclaimed actor for his role in Me, Earl & The Dying Girl and is starring in the summer blockbuster Power Rangers 2017 as Blue Power Ranger.  In addition, Brad Pitt picked him up for War Machines, a Netflix Original.
If you think you have what it takes and you are serious about getting your chance to shine in front of exactly the right people, we are interested in you auditioning for one of our celebrity judges.  From the ages of 5-25, Hollywood is waiting for you.  All looks, all ethnicities, all body types, we are looking for every type. We love kids and more importantly, we love making kid's dreams come true.
Adrian R'Mante, aka Esteban of The Suite Life of Zack and Cody is not only the owner of CGTV, he is the hands on acting coach, film scene director and mentor to each and every participant that comes through CGTV.  While he has a celebrity staff that have almost entirely come from Disney Shows, he makes sure each student gets his personal time as well.
RJ Cyler dreamed a big dream and is now living that same dream.
CGTV is a rigorous curriculum designed to help connect young talent like RJ Clyer with some of the top agents, casting directors, and managers in Hollywood. Workshops include improv, audition techniques, marketing tips and more, for film, theater, television, and commercial acting.  Students are guided by top celebrities from ABC, NBC, CBS, Disney Channel and Nickelodeon shows. For more information, please see our website, or call (818) 284-6689. "CGTV: We have people on TV and on Movies!"
https://cgtv.la/wp-content/uploads/2017/01/MV5BMjAzNTI1MDQxMF5BMl5BanBnXkFtZTgwNTQyNDE1OTE@._V1_.jpg
528
800
R'Mante
https://cgtv.la/wp-content/uploads/2018/10/CGTV-Logo-300x106.png
R'Mante
2017-01-16 17:25:52
2017-04-21 15:57:37
RJ Cyler, Forbes Magazine 30 under 30 list!